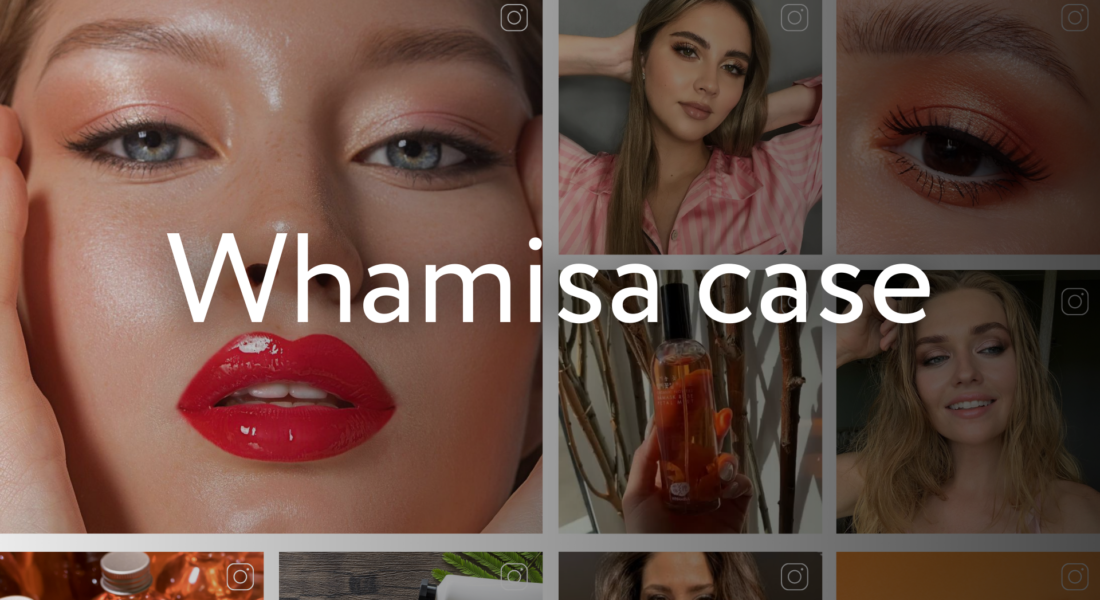 Whamisa is a Korean organic cosmetics brand and the same name e-commerce store. In the online store Whamisa products are presented exclusively based on plant materials of organic origin, do not contain components of animal origin and are not tested on animals. Social networks are full of visual reviews from beauty and eco lifestyle bloggers on the brand's cosmetics. This is the result of both competent influencer marketing, and a consequence of the fact that there are not so many trustful ethical brands on the market.
Influencer Marketing is a way to promote products and services through opinion leaders and their loyal audience that trusts them.
The challenge we had
The online store actively cooperates with bloggers on product reviews. Less actively, but on an ongoing basis, Whamisa works with a wider audience of clients: motivates to create visual reviews and then features them on the website.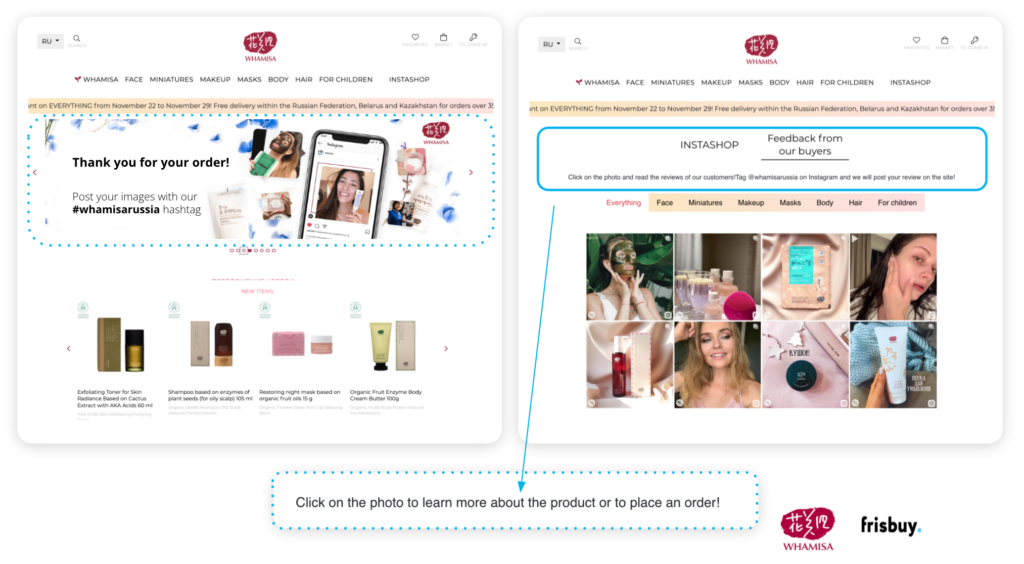 Still, blogging content is one of the main channels in the marketing mix of an online store. Therefore, our goal was to increase the effectiveness (ROI) of influencer marketing. And, of course, as for any online store, to increase website conversion rate and average check.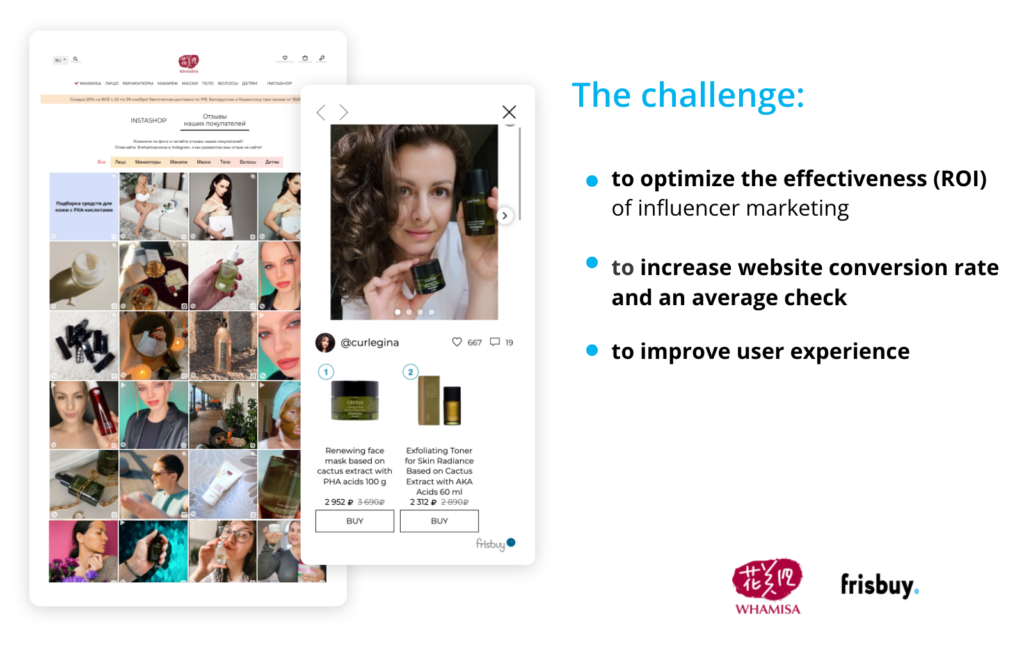 What we have done
Whamisa case holds the record for the number of points, where we have embedded galleries with visual reviews: 8 additional scenarios throughout the entire CJM (customer journey map) from engagement through the purchase to retention and LTV.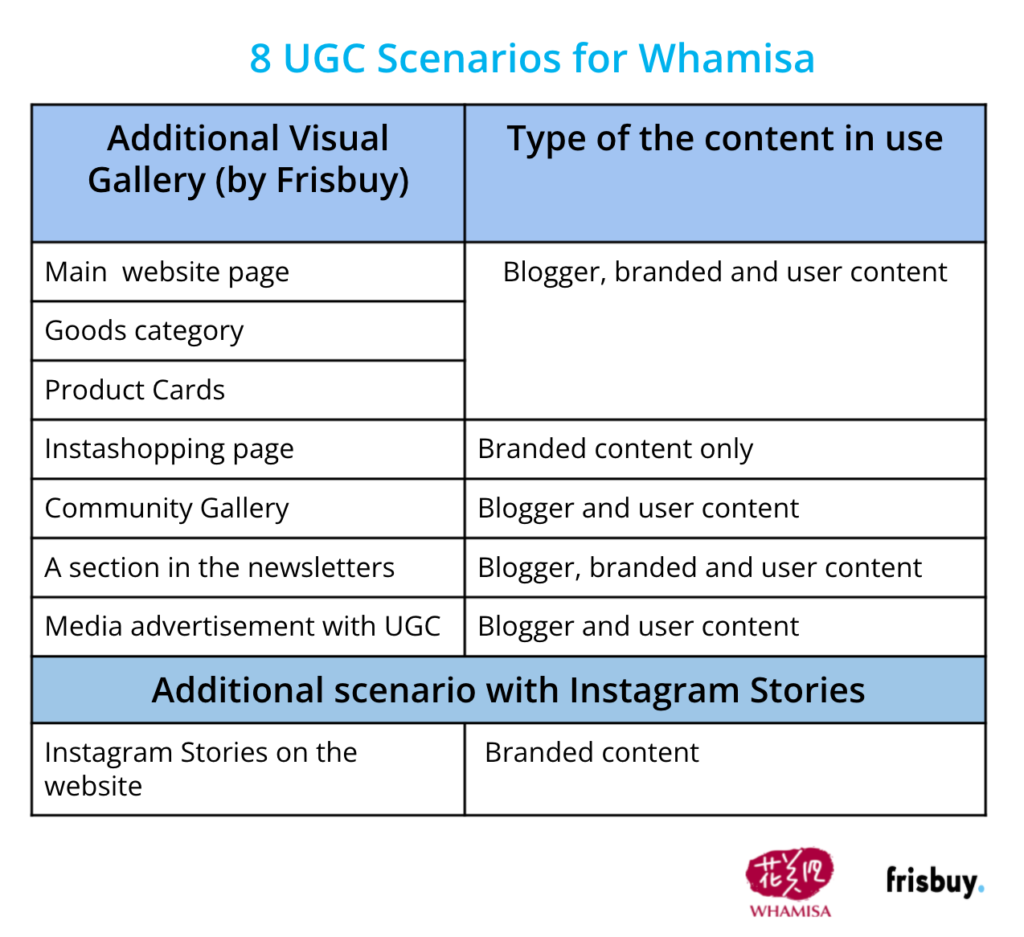 Frisbuy allows you to collect all types of content by hashtags, mentions and locations: your own content, content from partners and resellers, bloggers and real customers. The content enters your personal account and, after moderation (if necessary), according to the specified scenarios, is being distributed to various points on the website.
For an online store, Frisbuy tool collects its earned media, branded, photo-video content and content from bloggers and customers. After the moderation is done, the content is being distributed over six different points on the website, in the newsletters and in the social adds.
Let's take a closer look at the scenarios
Scenario # 1. Gallery on the main page
Inspirational gallery with branded and user-generated content drives engagement, introduces the brand and instills confidence and builds trust in the online store, showing seasonal offers and promotions.
Scenario # 2. Gallery in product categories
Helps to determine the variety of tools, prompts and tells examples of various use case scenarios. Reveals new catalogue items that can be hidden, due to the fact that the client can see and catch on to something new. This mechanic significantly increases average time on page.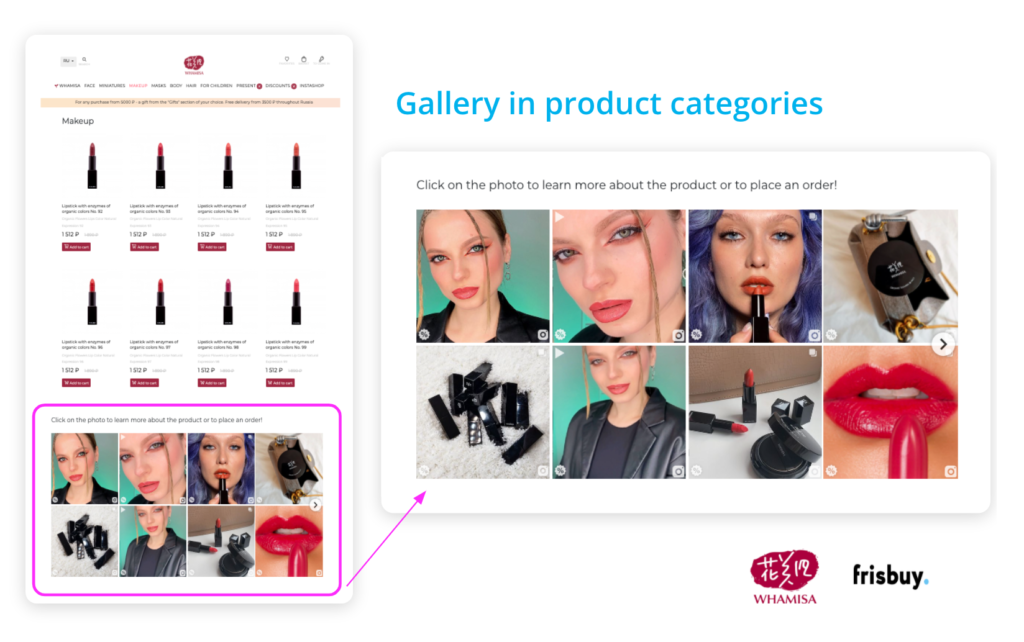 Scenario # 3. Gallery in the product cards
To instill the confidence for purchasing and suggest what other products the customer can buy along.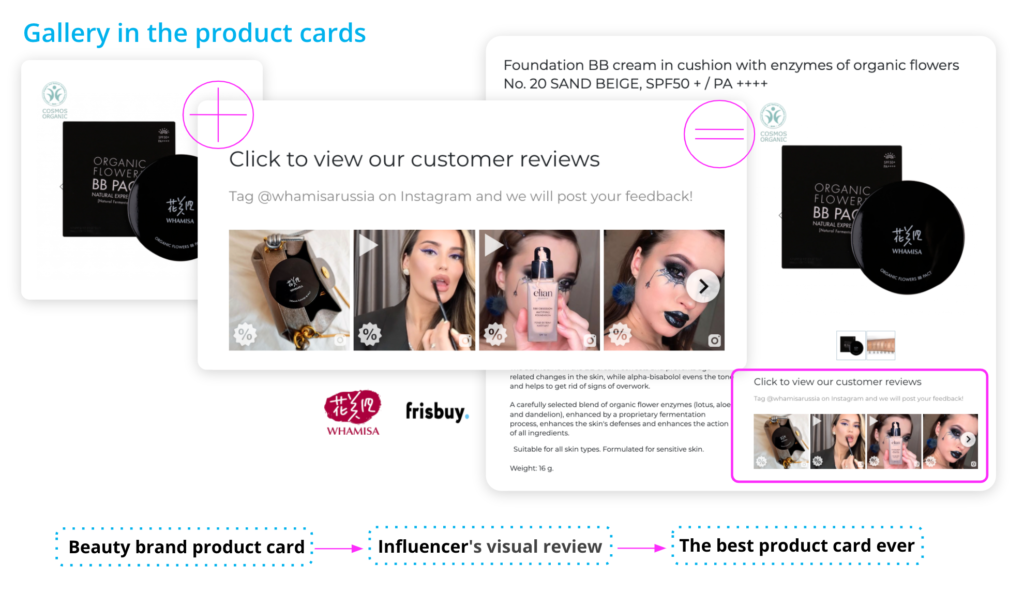 The product cards are important as it's a key point, where the customer makes a decision. That is why it is necessary to answer as much as possible to all possible objections of a website visitor: will it go along with anything else? Is the product good enough? Are there any proofs of this?
Plus, this is an additional opportunity for cross-selling (selling related products to increase the average check): what this product can be combined with, what other products are used for the complete make-up. This is a native way for upselling.
Scenario # 4. Instashopping section
Copies of the official account of the online store in the social network: content and artefacts of social proof, all photos are marked with links to products. Allows ecommerce to increase the selling life of useful branded content.
From the user's point of view: essentially a visual blog for getting to know the brand and its products and get recommendations.
Scenario # 5. Community gallery
A separate page with visual reviews of influencers/bloggers and real customers.
All the photos are marked with links to the online store catalogue, containing artefacts from Instagram – likes and comments. The page works both ways: attracting new audience and makes customers brand ambassadors.
Real visual reviews and real video testimonials – is what customers are looking for, which is especially important for beauty products. It inspires, brings confidence, suggest combinations and examples for different skin types, answers the concerns, introduces the brand and its additional products.
Scenario # 6. Newsletters with influencers' content
Influencers recommendations and visual reviews work across different channel, including the newsletters, linked to an online store. In Whamisa newsletters, you can navigate from the menu to the community gallery (Instashopping) directly, driving the traffic.
Content in the newsletters is updated in real time: when a photo or video is being posted on Instagram, the post appears on the website (Instashopping section) and in the newsletter – automatically.
Scenario # 7. Social Advertising with UGC
Content of real people is used in social advertising messages for maximizing trust and authenticity of the brand. And as we all know – trust is a good friend of a customer loyalty.
And now a new scenario – Instagram Stories widget on the site
Whamisa publishes informational and useful stories on the official Instagram account. This content can also work on the website.
Instagram Stories is a familiar and dynamic content format for maximum engagement. According to the results, of two months after the implementation, we see that the time spent on the site increased by 256.45% (when comparing users who viewed stories with those who did not).
What is important for an ethical brand, reusing Instagram content on the website pages is a business resource conservation. The content for Whamisa Instagram Stories is invested with soul, efforts and significant resources, and Frisbuy Stories widget allows expanding the audience seeing them.
Results of Frisbuy Stories widget for Whamisa have shown:
1. Stories content is much more engaging for the website visitors: in average, website users return to viewing Stories at least 3 times.
2. Stories on the website are much more familiar and convenient for online visitors: in average, 1 user views at least 13 Stories.
3. Website visitors who engaged with the Stories widget spend x4 times longer on the webpage than those who did not interact with the widget.
Key Takeaways
Visual content for a beauty brand is hypocritical, customers need visual reviews to make a decision to purchase.
For an online store, whose product catalog is based on skincare products, both visual and textual components are critical. It is a Necessity for brands to act as advisors for the audience.
Especially for an ethical cosmetics brand in an era of thriving greenwashing (a form of eco-marketing where a product only pretends to be green and ethical), it is very important to attract opinion leaders to spread the idea.
Collected influencers and customer visual reviews along with recommendations from real people work better than anything else. This building customer trust and loyalty and increases the sales of the online store.
We cannot show all the numbers for this case due to NDA, but the client's feedback speaks for itself:
"We have been working with Frisbuy team since March 2019. Initially, we were looking for a new solution to integrate publications and reviews from Instagram to our website. This is how Instashopping was implemented. The result exceeded expectations: from the very first day of a setup, the conversion skyrocketed. This was the perfect solution for us, since we basically never get bad reviews. Now we clearly show the customer what the feedback on the product is, what emotions and results it brings, along with influencers, experts, eco-bloggers opinion.

Plus, we ourselves posted a lot of interesting content on our official Instagram, when we transferred it to the website from Instashopping, it actually replaced our blog.

I would like to draw your attention to the fact that the team is very helpful, and personal. Everything was adjusted and customized "for us", we managed to figure out the service in just an hour, work with Frisbuy is very convenient and smooth".

Head of Cosmetic Direction Whamisa
You may also like
December 13, 2021